Airtel eSIM: Its benefits and how to convert and use it.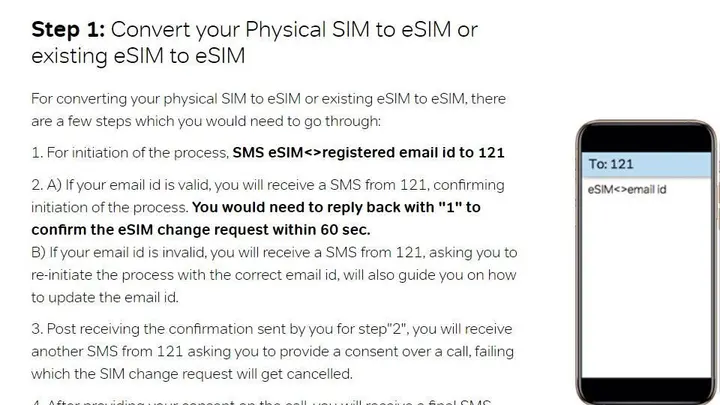 To start with, you need to send an SMS with your email ID to 121 in the format 'eSIM<SPACE>email'.
After this, you will receive a confirmation SMS and a call confirming that you sent a request to convert your physical SIM to an eSIM.
This will be followed by an email that contains a QR code. This QR code needs to be scanned using the iPhone on which you want to set up the digital SIM.
How to scan QR code for Airtel eSIM activation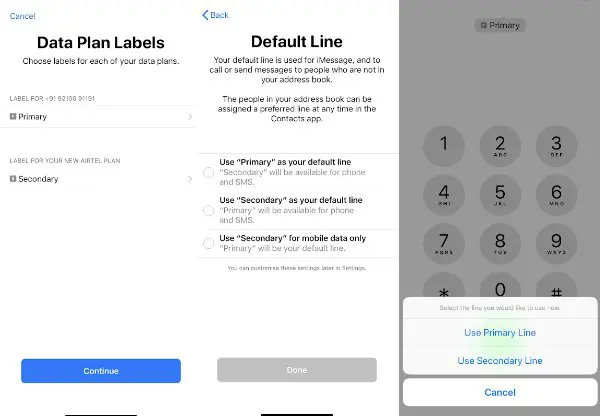 To scan the QR code, open the Settings app on your iPhone and Android mobile phones, and head to the Mobile Data option.
Here, tap on the Data Plan option and scan the QR code. remember, the code can be scanned only once.
Now, you will be prompted to add the Airtel data plan on the eSIM. Just tap on Add Data Plan at the bottom of the screen to do the same. You will be able to set this profile as primary or secondary.
Next, you have to choose which number (the physical SIM or the eSIM) you want to use for calls and data.
There will be a small period when your number will become inactive while it transfers from a physical SIM to a digital SIM. During this period, which lasts a few minutes, you will not be able to make calls, send SMSes, or access mobile data on the iPhone unit.
Once this transfer is over, you will see the secondary eSIM profile in your Mobile Data settings.
That's all you have to do to set up Airtel eSIM for dual-SIM functionality on iPhones
List of smartphones with eSIM support
iPhones Android mobile phones
iPhone 13 Pro Max
Samsung Galaxy S22 Ultra
iPhone 13 Pro
Samsung Galaxy S22+
iPhone 13
Samsung Galaxy S22
iPhone 13 mini
Samsung Galaxy S21 Ultra
iPhone 12 Pro Max
Samsung Galaxy S21+
iPhone 12 Pro
Samsung Galaxy S21
iPhone 12
Samsung Galaxy S20 Ultra
iPhone 12 mini
Samsung Galaxy S20+
iPhone 11 Pro Max
Samsung Galaxy S20
iPhone 11 Pro
Samsung Galaxy Z Flip 3
iPhone 11
Samsung Galaxy Z Fold 3
iPhone XS Max
Samsung Galaxy Z Flip 2
iPhone XS
Samsung Galaxy Z Fold 2
iPhone XR Motorola Razr
iPhone SE (2022)
iPhone SE (2020)